Findings from new study on volunteering and social activism now available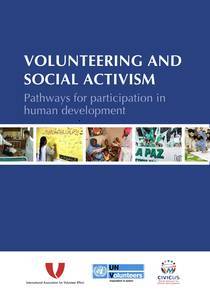 Volunteering and social activism are two important strategies for fostering participation in social change and human development. This is one of the key findings of a path-breaking study conducted by a partnership of three organisations: CIVICUS: World Alliance for Citizen Participation, the International Association for Volunteer Effort (IAVE) and United Nations Volunteers (UNV).

The research shows that while volunteering and social activism are sometimes viewed as separate spheres of activity, there is in fact a dynamic relationship between the two and that both contribute to increasing people's participation in development commitments such as the Millennium Development Goals (MDGs).

The findings of the research are documented in a conceptually innovative discussion paper entitled: Volunteering and Social Activism: Pathways for Participation in Human Development.

Executive director of VOSESA, Helene Perold, collaborated with the three organisations and Karena Cronin to produce the publication, which is available in English, Portuguese, Russian and Spanish at: http://www.worldvolunteerweb.org/resources/research-reports/global/doc/ volunteerism-and-social-activism.html. The publication will be featured in the March issue of The International Journal of Volunteer Administration.

The CIVICUS-IAVE-UNV publication is structured in four parts. Part one considers perceptions of volunteering and social activism. Part two identifies four key ways in which volunteering and social activism support one another in fostering participation. Part three focuses on how volunteering, including aspects of social activism, can cultivate participation in development, particularly in achieving the MDGs. Part four identifies four approaches to deepen and sustain participation in development and social change. The authors conclude by challenging leaders in all sectors to recognise the combined potential of volunteering and social activism to foster participation in human development and social change. Only in this way, they argue, can the vast potential of civic participation be unleashed for the advancement of human development. To read the full publication, click here.
Direct any questions about the publication or about CIVICUS, IAVE or UNV to Karena Cronin at Karena.Cronin@civicus.org.
- Karena Cronin [1]
[1] Karena is a CIVICUS, UNV and IAVE Volunteer Outreach Associate. She is based at the CIVICUS headquarters in Johannesburg, South Africa. She conducted extensive research on volunteering and social activism.