Funding options and challenges
By Rejoice Shumba [1]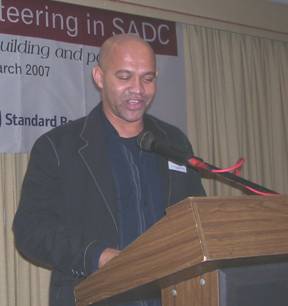 Dr Russel Ally, Director of the Mott Foundation, during his presentation on funding challenges and options in doing research on service and volunteering.
A good research project will get funding, as long as organisations make sure they are approaching funders who are interested in the work they are doing. This is the view of Dr Russell Ally, Director: Mott Foundation, who spoke at a workshop on civic service and volunteering in SADC, convened by VOSEESA from 14 to 16 March 2007 in Johannesburg.

Ally addressed workshop participants about funding options and challenges in doing research on service and volunteering. As the Director of the Charles Stewart Mott Foundation (South Africa), he receives funding proposals from a wide range of non-governmental and non-profit organisations and therefore has a great deal of knowledge about what makes a successful funding proposal.

Hallmarks of a good funding proposal

Dr Ally stressed that a good research project is likely to attract funding, because funders are actively looking for projects to fund. Returning money to sponsors does not reflect well on funding organisations and they have a responsibility to find good projects to support. In light of this, he explained why some projects are not funded and suggested some strategies for submitting a good proposal.

Firstly, it is important to approach the relevant funders. For example, there is no point in approaching an environmental funder if your organisation focuses on issues related to HIV and AIDS. Organisations also struggle to secure funding because the project's aims and objectives are not clearly explained in funding proposals and the funder feels unsure about what they will be getting involved in. It is therefore very important that organisations ensure that their funding proposals are clear, concise and to the point.

Secondly, it is difficult to find funding for research, even though this is a critical area of work. To minimise the chances of a proposal being rejected, Russell Ally gave a number of pointers for organisations seeking funding for research:
Identify a funding organisation and then model the proposal according to funder's interests.
Before approaching a funding organisation, do background research about the organisation. Funders are more likely to award funding to organisations that have developed some knowledge of the funder.
Rather than sending unsolicited proposals, send a short concept paper that can become a basis for discussion. This saves time for funders, as they can quickly assess whether they would be interested in the research project, rather than having to read through a lengthy proposal. It also prevents the research organisation from spending time on proposals that could be rejected.
Forge alliances with programme implementers. This could benefit the research organisation. Funders are generally more interested in funding hands-on projects like feeding schemes or environmental projects and less in research. Partnering with programme implementers and submitting a research and evaluation proposal as an add-on to the programme, can help research organisations to get a slice of the funding.
Development funding

Dr Ally also addressed the issue of approaches to development funding.

Generally there are two approaches to development funding:
the 'deficit' model (which regards communities as helpless people who can not help themselves in any way); and
the 'asset' model (that recognises assets – such as people – that are already active in communities and which can be supported through projects).
The Mott Foundation aims to help communities unlock their resources for development. It holds the view that communities can address challenges such as poverty and HIV and AIDS, using their own resources. The Mott Foundation thus aligns itself with the asset development model, because it realises the importance and power of the human resources that are available in communities. The Foundation therefore empowers communities to help themselves.

Core costs

What about the lack of willingness among funders to support start-up costs, running costs, and staff and administration costs?

Dr Ally explained that this is a perennial problem and is not specific to any funding body. To prevent running costs from becoming a detriment to an organisation, funding proposals should budget for all overheads and cover all expenses, including administration costs.


[1] Rejoice Shumba is the Project Coordinator at VOSESA.