Spotlight on research and policy for service and volunteering
By: Rejoice Shumba [1]
Volunteering and civic service in SADC countries came under the spotlight at a research, capacity-building and policy workshop held from 14 to 16 March 2007 in Johannesburg.
The workshop was organised by VOSESA and the workshop participants witnessed the launch of the joint special issue of the Social Work Practitioner-Researcher and the Journal of Social Development in Africa. The workshop was opened at a well-attended function addressed by four keynote speakers: Murphy Morobe (CEO of Kagiso Media and Co-Chairperson of the board of City Year, South Africa), Dr Rose Ekeleme (Vice-President of IAVE), Dr Mae Chao (UNV, Bonn) and Dr Russell Ally, Director of the Charles Mott Foundation.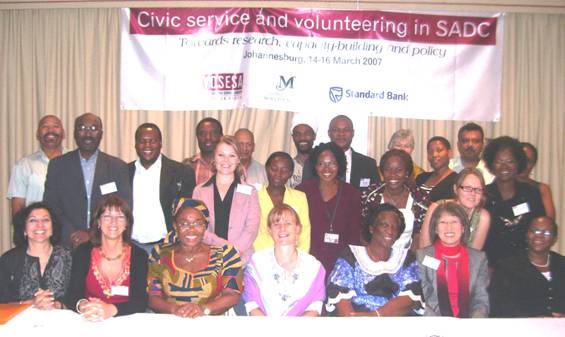 Participants at VOSESA's workshop on Civic service and volunteering in SADC: Towards research, capacity-building and policy) which was held in Johannesburg in March. Seated from left to right are Prof. Leila Patel, Helene Perold, Dr Rose Ekeleme, Kate Moleni, Katherine Thupayaghale, Mae Chao, Martha Rampa, Standing from left to right are Bernard Pather, Salah E Mohamed, Dr Morena Rankopo, Jotham Dhemba, René Caraphina. Mike Moses, Rejoice Shumba, Ntokozo Mthembu, Mma Onyekaba, Vitalis Anopue, Joy Nkem Ogazi, Rie Holmes, Veronica Mathebula, Philanie Jooste, Mahendranath Busgopaul, Odochi Ogbona, Benter Okello.


The objectives of the workshop were to:
develop a research agenda for civic service and volunteering in SADC
strengthen the relationship between research and policy around service and volunteering in SADC
develop a funding strategy for research on civic service and volunteering in the region
build a research network in the SADC region by developing a service and volunteering research strategy, and
strengthen research capacity in the field of service and volunteering.
The workshop was attended by delegates from different volunteer organisations including the International Association for Volunteer Efforts (IAVE) from Nigeria, Botswana, and Mauritius and researchers from Botswana, Malawi, South Africa and Zimbabwe. The Youth Desk in South Africa's Presidency, the Umsobomvu Youth Fund and the Cape Town Volunteer Centre were also represented. The presentations were followed by discussions in which participants shared their experiences and engaged with the research findings.

VOSESA had just completed a five-country study of civic service and volunteering in SADC and the findings of the study were presented by researchers from the following countries:
Botswana - Morena Rankopo
South Africa - Helene Perold and René Carapinha
Malawi - Catherine Moleni
Zimbabwe - Edwin Kaseke
Zambia -Theresa Wilson could not attend the workshop and her study was presented by Professor Leila Patel.
The presentations at the workshop highlighted that civic service in the five countries studied was quite different from volunteering in industrialised countries where those who provide service tend to be more affluent than their beneficiaries. The programmes studied in the five countries showed that civic service and volunteering is the domain of the poor, is widespread, and is expanding rapidly as large numbers of people are volunteering in all of the five countries studied. Research findings presented at the workshop can be accessed at www.vosesa.org.za
The workshop delegates also had the chance to interact with Dr Russell Ally (Director of the Charles Mott Foundation) who shared his insights on funding and suggested strategies for making sure that funding proposals are accepted. Dr Mae Chao (United Nations Volunteers) gave a presentation which highlighted the important role that volunteering can play in development. She emphasised that, if the Millennium Development Goals (MDGs) are going to be achieved timeously, volunteers will have to be utilised.
Workshop outcomes
The workshop outcomes have significant implications for the way forward in the emerging field of research on civic service and volunteering. It was agreed that since service is an emerging phenomenon in the SADC region, it is necessary to undertake more research in order to gain a closer understanding of volunteering in Africa. The research agenda was set as follows:
Establish the size and scope of the voluntary sector and service in all 14 SADC countries through a quantitative study
Establish the contribution of service to national social development in SADC
Monitor and evaluate service and volunteer programmes, and assess their impact
Document the experience of servers and the conditions under which they carry out their work
Examine the retention of servers and volunteers: analyse the present situation and devise strategies for improvement
Look at the role of incentives and their impact on the motivation of servers
Find out about the attitudes of beneficiaries towards servers
Research the critical success factors in the management of service programmes
Focus on gender issues within this context
Examine the institutionalising local community-based forms of service and impact on willingness of people to serve
Analyse government-NGO relations
Explore the relationship between volunteering and future success in learning and work
Examine the role of service in building democracy (service as an indicator of social cohesion and social engagement in society)
The workshop ended with resolutions that each of the country representatives would take forward in their respective countries. A range of country-level strategies for doing so were discussed, and a number of international partnerships were identified. These include partnerships with United Nations Volunteers (UNV), International Association of Volunteer Effort (IAVE), Civicus and Voluntary Service Overseas (VSO).
It was noted that discussion about the nature of voluntary service and its role in development would be promoted through the development of a discussion paper and dialogue on activism and volunteerism, and through conversations with international agencies and volunteering.
Regional strategies were also discussed, and a number of points of contact were identified to strengthen the relationship between researchers and policy makers. These include:
The SADC Human and Social Development Unit
UNV agreed to play an advisory role through its work in Africa
West Africa – Economic Community of West African states (ECOWAS)
The African Union's African Youth Volunteer Programme (African Youth Corps).

[1] Rejoice Shumba is the Project Coordinator at VOSESA.