Edutainment series promotes volunteerism
By Salah Mohamed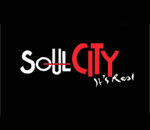 Service and volunteering are being featured for the first time in a primetime TV and radio series in South Africa. The award-winning series, Soul City, this year in its 7th season, has included service and volunteering as one of the key messages of the series.

Through this message strand, Soul City aims to promote four ideas: service can involve all sectors of society in identifying and acting on social needs; service is not women's work — everyone can work together for the betterment of the community as a whole; volunteers need to be trained, supported and mentored to produce quality work; and students learn more when they participate in service learning.

By including service and volunteering as a key focus, Soul City is helping to acknowledge the role of service programmes and volunteers in dealing with the challenges of social change. According to Lebo Ramafoko, Series Senior Manager, "(Soul City) wanted to unpack the concept and understand what roles volunteering and service can play in dealing with the health and development challenges that we are addressing."

For example, the 6th season showed that real support to children affected by HIV and AIDS comes from community-based organisations that work on a voluntary basis.

The Soul City Institute for Health and Development Communication (IHDC) is an NGO that harnesses the influence of mass media for health promotion and development. It sees 'edutainment' as a popular vehicle for conveying social messages and strives to be a prime agency for health education and social change, challenging social attitudes and changing unhealthy behaviour patterns.

Through drama and entertainment on television and radio, Soul City reaches more than 16 million South Africans. It has also been broadcast in many parts of Africa as well as Latin America, the Caribbean and South East Asia.

Soul City's multi-media and advocacy strategies aim to create an enabling environment to empower audiences to make healthy choices and each series is made up of the following components:
a primetime TV series of 13 episodes;
a daily radio drama of 45 episodes;
three full-colour booklets per series;
a publicity campaign which keeps people talking and thinking about Soul City; and
an advocacy campaign around one of the major topics.
The TV and radio programmes are powerful vehicles to shift social norms and impact on knowledge, attitude and practices. The booklets deal with the series topics and can be kept by readers for future reference.

The television series is broadcast on South Africa's most popular television station (SABC 1) and has won numerous prestigious awards for excellence in television drama. The radio series is broadcast on all nine SABC regional radio stations (in nine of South Africa's national languages) and on many community stations.

The booklets are serialised in national newspapers and are also distributed through clinics, other government distribution channels, non-governmental and community organisations, business and educational facilities. At least three million booklets are distributed per series.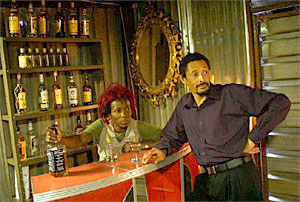 Zandi and Sol, two of the characters who feature prominently in the 7th season of Soul City (Photo: Soul City)
Although there are many initiatives in different parts of Africa that draw on radio for development and change, Soul City seems to be the only one that is featuring volunteering as one of its key messages.

In Ghana, the radio drama and magazine show He Ha Ho focuses on educating listeners about malaria, reproductive health, family planning and HIV and AIDS. In Zambia, the radio soap opera Ichi Chalo highlights risks to food security, while in Zimbabwe, Taxi Tunes is a series of educational radio cassettes that aims at educating the people of Bulawayo on health, sexuality, environmental responsibility and gender.

Soul City has thus broken new ground by making service and volunteering an explicit theme of its 7th season. We look forward to hearing more from this very innovative organisation.